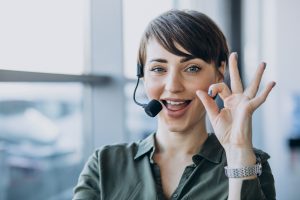 Good service may may different things to people. However, there are universal concepts that mark up a professional approach which will mean a "good service" for most of the users of a service or product. Here is the check list for your company to consider:
A single service standard.
At all stages of interaction, the Client does not feel like he (or she) doesn't belong. He understands that the customer service agents will help him at any time, and the courier will deliver the purchase at the right time. All team members speak the same language, are polite and invested.
Solving client problems at all stages.
Even after the purchase, the company is always in touch with the Client: they are looking forward to the feedback, answer questions, provide assistance and technical support.
Attention to detail.
The business knows what the client's favorite type of communication is, his preferences and tastes. And they can provide personalized recommendations.
The client service is provided via multiple channels.
The Client can contact you when and where it is convenient for him. Social media, messenger, phone or email – any channel, the customer will be politely consulted and guided to further actions.
A clear algorithm for each category or the issue.
All agents know how to handle a hesitant customer, what to offer to a repeat customer, and how to talk to prospects and how to manage angry customers. Each group has a different scenario.
Hopefully you ticked all the boxes.